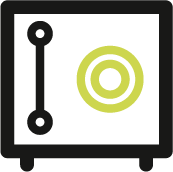 Privacy Policy & Personal Data Use
Securum Self Storage respects your right to privacy and does not collect any of your personal information without your consent. Any personal data you provide will be treated with the security and confidentiality required by the Data Protection Legislation, as set out in the RGPD.
Collection and use of personal data
Securum Self Storage does not collect your personal information on this site unless you voluntarily provide it (for example, when you use our online form to send a request for information or a complaint).
Securum Self Storage only collects personal data from customers necessary to fulfil legal obligations and contracts. Any information you provide will be used by Securum Self Storage only for the purpose described.
Responsible for the processing of personal data
Securum Self Storage is responsible for the treatment of your personal data, whether automated or not, from collection, organisation, preservation to disposal.
Securum Self Storage is aware of, and complies with, the rules laid down for the treatment of personal data, which are currently laid down in Regulation (EU) 2016/679 of the European Parliament and of the Council of 27 April 2016.
Data retention period
Your data will be kept for a period of two years from the granting of this consent or, if you have a contract with us, for a period of 5 years from the granting of this consent, or for a longer period if the law requires.
Right to complain
If you consider that your data is not being treated in accordance with applicable legislation, namely European and national law, we remind you that you have the right to complain to a supervisory authority (eg. National Data Protection Commission) or directly with us to info@securumstorage.com